Joining the euro area
All EU Member States, except Denmark, are required to adopt the euro as their currency and join the euro area. To do so, they must fulfil the "convergence criteria".
Cash changeover in Lithuania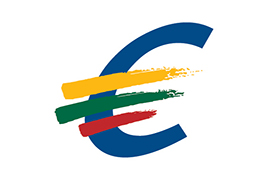 On 1 January 2015 Lithuania became the 19th member of the euro area. The irrevocably fixed exchange rate is €1= LTL 3.45280.
Map of the euro area
Austria
EU member using the euro
EU member since 1995

Euro since 1999 (cash since 2002)
Belgium
EU member using the euro
EU founding member in 1957

Euro since 1999 (cash since 2002)
Bulgaria
EU member not using the euro
EU member since 2007
Cyprus
EU member using the euro
EU member since 2004

Euro since 2008
Czech Republic
EU member not using the euro
EU member since 2004
Germany
EU member using the euro
EU founding member in 1957

Euro since 1999 (cash since 2002)
Denmark
EU member not using the euro
EU member since 1973
Estonia
EU member using the euro
EU member since 2004

Euro since 2011
Spain
EU member using the euro
EU member since 1986

Euro since 1999 (cash since 2002)
Finland
EU member using the euro
EU member since 1995

Euro since 1999 (cash since 2002)
France
EU member using the euro
EU founding member in 1957

Euro since 1999 (cash since 2002)
Greece
EU member using the euro
EU member since 1981

Euro since 2001 (cash since 2002)
Croatia
EU member not using the euro
EU member since 2013
Hungary
EU member not using the euro
EU member since 2004
Ireland
EU member using the euro
EU member since 1973

Euro since 1999 (cash since 2002)
Italy
EU member using the euro
EU founding member in 1957

Euro since 1999 (cash since 2002)
Lithuania
EU member using the euro
EU member since 2004

Euro since 2015
Luxembourg
EU member using the euro
EU founding member in 1957

Euro since 1999 (cash since 2002)
Latvia
EU member using the euro
EU member since 2004

Euro since 2014
Monaco
Non-EU country
Malta
EU member using the euro
EU member since 2004

Euro since 2008
The Netherlands
EU member using the euro
EU founding member in 1957

Euro since 1999 (cash since 2002)
Poland
EU member not using the euro
EU member since 2004
Portugal
EU member using the euro
EU member since 1986

Euro since 1999 (cash since 2002)
Romania
EU member not using the euro
EU member since 2007
Sweden
EU member not using the euro
EU member since 1995
Slovenia
EU member using the euro
EU member since 2004

Euro since 2007
Slovakia
EU member using the euro
EU member since 2004

Euro since 2009
San Marino
Non-EU country